HLS.Today Jens Stoltenberg is set to step down this year, and the jockeying to replace him has already begun. A year ago, Jens Stoltenberg was preparing to begin winding down his term as NATO's secretary-general and return to Norway to become the governor of its central bank, occupying himself with setting interest rates and managing the energy-rich nation's massive wealth. Early in February of last year, Norway's finance minister declared that he was the "best" candidate for the position.
Just a few weeks later, Russia invaded Ukraine. Stoltenberg quickly got an extension in his current job and a legacy as the face of Europe's coordinated response to Russian President Vladimir Putin's war of aggression.
That one-year extension, however, will lapse this fall, and Brussels is already abuzz with speculation over his replacement. In the 30-member alliance, there are nearly half as many names making the rounds.
A year on, support to Ukraine from nations around the world matters more than ever, NATO Secretary General Jens Stoltenberg said in Brussels today.
Stoltenberg spoke before the alliance Defense Ministerial which, he said, is happening "at a critical time for our security."
Two men engage in conversation across a conference table as others at the table look on.
February 24 marks one year since Russian President Vladimir Putin ordered his forces to invade neighboring Ukraine. The Russian leader believed he would have a cakewalk and take the Ukrainian capital of Kyiv, but his forces were stopped and driven off. The same occurred in Kharkiv and in Kherson.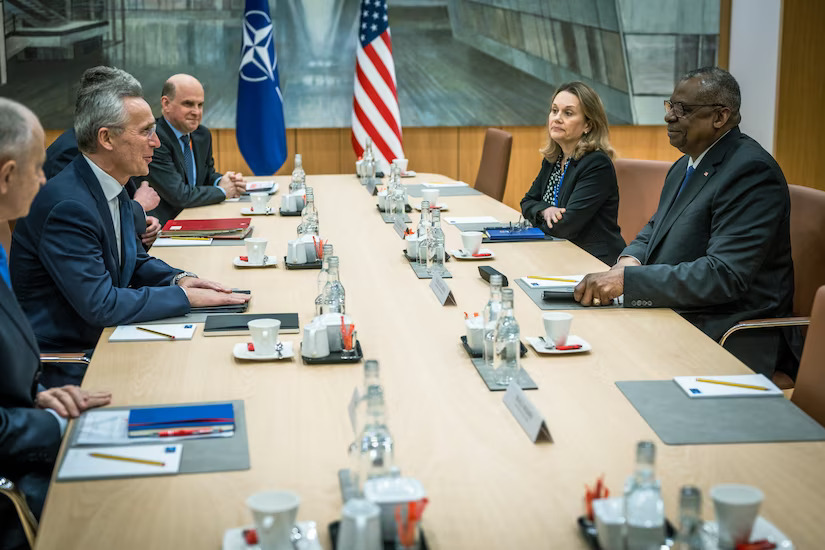 Spotlight: Support for Ukraine
Still, "we see no signs that President Putin is preparing for peace," he said. "What we see is the opposite, he is preparing for more war, for new offensives and new attacks. So, it makes it even more important that NATO allies and partners provide more support to Ukraine." 
The NATO allies will protect every inch of NATO territory, but supporting Ukraine in its fight against naked aggression is crucial as well.  
The Russian attack on Ukraine is an affront to sovereignty not only in Europe, but around the world. "This is a war of aggression," Stoltenberg said. "President Putin — Russia — has attacked a sovereign independent democratic free nation in Europe — Ukraine. Of course, Ukraine has the right to defend itself — the right of self-defense is enshrined in the [United Nations] Charter." 
NATO and NATO nations "have the right to help Ukraine uphold the right for self-defense."
He noted that the support Ukraine has received has changed as the war evolved. At first, the need was for anti-armor and anti-air weapons. Then, the need shifted to artillery, then air defense. "And now, over the last weeks and months, allies have agreed to further step up significantly when it comes to heavy weaponry: armor, infantry fighting vehicles, but also main battle tanks," he said.  
The type of support has evolved and will continue to evolve, he said. "We need to ensure that Ukraine gets the weapons it needs to be able to retake territory, liberate the lands and win this war and prevail as a sovereign, independent nation," he said.
HLS.Today Source: Defense.gov